DPG-B Battery Powered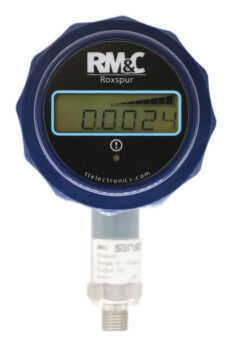 The DPG-B series battery powered gauge can be supplied in gauge or absolute pressure formats and displays the sensor pressure in bar, PSI or the user's engineering unit on a 6-digit LCD display. The instrument offers an advanced display mode allowing the user to also display one or two (1 to 32) character messages.
Additional to the messages, the user may select an alert-event to occur when the pressure is within a band. A change-over relay can be used together with the messaging and alerts to provide switching at user-set points. In addition to this, on-board datalogging is also available to record process details at up to 5000 points.
Specification:
• Range: 0 – 100 Bar
• Overpressure: 1.5x full scale
• Measurement type: Gauge / Absolute
• Accuracy: ± 0.5% F.S. BFSL@25C
• Temperature compensation: Automatic
• Total error: 1%
• Working Temperature: -10C – 80C
• Stability: ±0.2% F.S. /year
• Process fitting: G1/4" (other types available on request)
• User changeable pressure units via software
• Stainless Steel Pressure Sensor Housing, ABS enclosure and
Clear Polycarbonate display cover.