Density Transmitters (Specific Gravity Transmitters)
290 Series Density Transmitter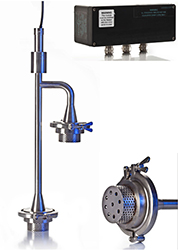 Basic design is readily adapted to suit each application.
Submersible or external tank mounting
Stainless steel body and Hastelloy diaphragms permit application on many aggressive chemicals.
2 wire 4 to 20 mA output from remote weatherproof amplifier module.
Intrinsically safe versions available
Suitable for Densities in the range 0.5 to 3.00 and may be calibrated with offset zero
Optional temperature compensation for applications where ambient shift is significant
Protected against conditions of asymmetric overload
290 Series transmitters measure density as a function of differential pressure. Each unit has two pressure sensitive diaphragms, each of which are located at a known elevation in the tank. Under normal operation both diaphragms will be submerged, and since the distance between them is fixed, any variation in the pressure differential between them must be a function of the liquid density.
Within the sensor construction the diaphragms are hydraulically linked, the lower diaphragm is "rated" to suit the density span whilst the upper is compliant and provides a pressure transfer, via the hydraulic fill, to the rear of the rated diaphragm. Actual displacement of the lower diaphragm is measured using the proven LVDT principle. An amplifier module receives the LVDT's output signal and conditions it to provide a 4 to 20 mA output over the required span. For convenience this amplifier may be sited up to 100 Meters away from the sensor.
Our unrivalled experience in the design and application of pressure sensitive diaphragms and a versatile approach to unit construction, ensures optimum performance on all applications. Examples of previous successes include duties as diverse as Beer fermentation vessels, where very small changes in density must be resolved and hygienic construction is needed, and Drilling Mud storage vessels where mechanical protection and rugged construction are essential.
Units can be manufactured to suit either external flanged, threaded, or hygienic fittings, or as a completely submersible unit suitable for pole suspension or clamping in place.